Trezor One – Crypto Hardware Wallet **with Local PH Distributor Warranty** – The Most Trusted Cold Storage for Bitcoin, Ethereum, ERC20 and Many More (Black)
In Stock
SECURELY PROTECTS against hackers, viruses, keyloggers, and more. Simple backup that restores all device content in case of loss or theft. Super easy to use with a simple 3-step setup. Works for cold storage and, thanks to its mobile connectivity, as a hot wallet for whenever you need instant access to cryptocurrency, passwords, and keys.
MAKE SECURE CRYPTOCURRENCY TRANSACTIONS without fear of hackers or malware gaining access to your assets. The private keys to your cryptoassets never leave the device. Eliminates the nightmare and endless hours of hassle a break-in can cause. The hardware wallet creates a secure offline environment, completely isolated from the internet and its dangers. Trezor uses its screen to let you visually verify and manually confirm all actions.
UNIVERSALLY COMPATIBLE with Windows, macOS, and Linux. Trezor provides everything you need to fully enjoy and utilize modern cryptography to secure your digital assets. Comes with clear instructions and a USB cable. Ready to plug in and use immediately. This is the affordable protection you need when using cryptocurrency.
COMPACT & LIGHTWEIGHT sized at just 2.4 x 1.2 x 0.2 inches. Weighs less than half an ounce. Perfect for carrying in a briefcase, backpack, purse, or pocket. Sports a 120 MHz embedded ARM processor Cortex M3 running a custom developed system. The bright OLED screen is 128×64 pixels with up to 6 lines of text. Lets you see all your information in a single screen.
Description
Trezor Bitcoin Wallet
Bitcoin Wallet
TREZOR One is among the most trusted and ubiquitous hardware wallets in the world. It offers unmatched security for cryptocurrencies, password management, second-factor authentication, while maintaining an absolute ease-of-use, whether you are a security expert or a brand new user.
Saved under the same seed, secured by the same technology. Use Ethereum conveniently in cooperation with our partners at MyEtherWallet.
Easily prove your ownership of messages and documents, or verify others.Connect your TREZOR to third party wallets and services.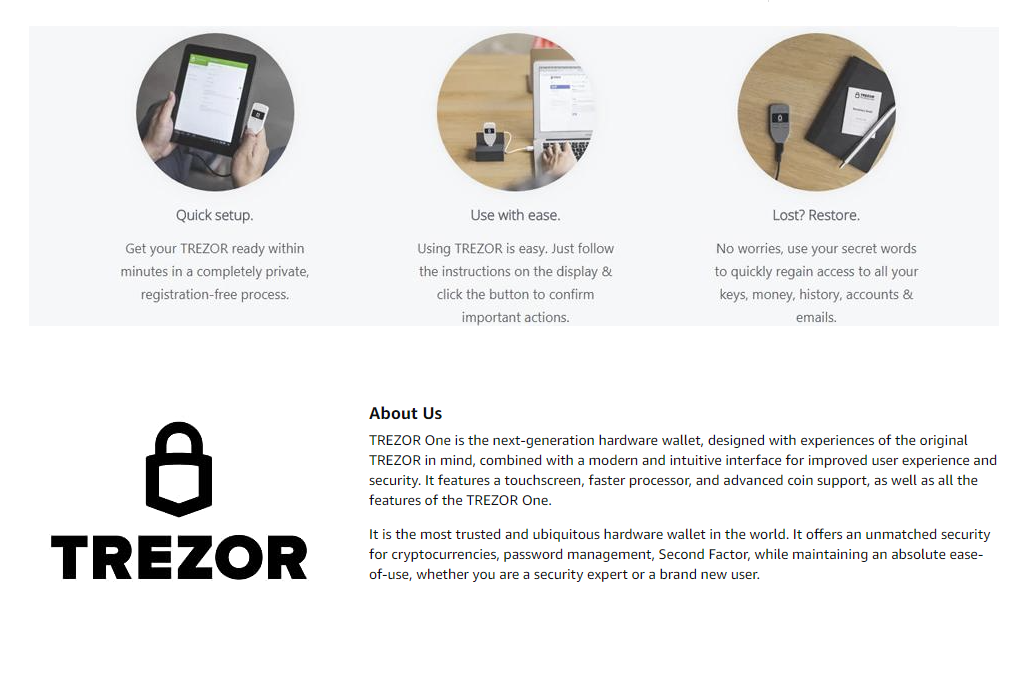 TREZOR ONE CRYPTOCURRENCY WALLET BLACKthe popular original hardware wallet for securely managing, storing, and using your private keys. Super easy and intuitive to use. Works flawlessly with Windows, macOS, and Linux. Trezor has been the original and the best crypto hardware wallet since 2014, made easy for every user to start using it right away. Comes with instructions and a USB cable. The easy to see bright OLED screen gives you enough space for 6 lines of text. Lets you do complex transactions on a single screen without wasting time scrolling to other screens. Trezor uses a small isolated environment that requires you to physically approve transactions. Highly effective in eliminating the threat of hackers, keyloggers, viruses, and malware that can steal your information and cryptocurrencies.
PRODUCT FEATURES
Trezor One Cryptocurrency Wallet Black

Hardware wallet for cryptocurrency

Highly secure environment isolated from online threats

Lets you physically approve transactions

Protects you against hackers, viruses, malware, bots

Works seamlessly with Windows, macOS, Linux

Comes with simple instructions and a USB Cable

Affordable advanced protection

Every 5 minutes a bitcoin is stolen – protect your cryptocurrency now

Compact and lightweight

Easy to carry in a pocket, purse, backpack, or briefcase

Works perfectly for both experts and new users
Additional information
| | |
| --- | --- |
| Weight | 0.5 kg |
| Dimensions | 20 × 20 × 4 cm |
| Brand | Trezor |
Only logged in customers who have purchased this product may leave a review.