Cooler Master BLACK Colored Premium PSU Extension Cable Kit (CMA-NEST16XXBK1-GL) 1 x ATX 24 Pin, 1 x CPU 8 (4 + 4) Pin, 1 x CPU 8 Pin, 2x PCI-e 6+2 Pin, 2 x PCI-e 8 | Cable Clips: 4x 24 Pin, 12x 8 Pin, 6x 6 Pin | Pin Single Sleeve 16 AWG
Out of stock
30cm Cable Length – Extension cables are long enough to conceal factory PSU cables in most standard ATX cases.
16AWG Wire Type – Cables are thicker than standard industry cables for better durability, improved heat resistance, and increased current stability
PVC Sleeving – The outer layer of the cables is PVC colored sleeving, ensuring durability, a high quality appearance, and flexibility all at the same time
Universal Connectors – Extension cables will work with any PSU on the market that uses industry standard connectors: ATX 24 Pin, CPU 4+4 Pin, CPU 8 Pin, PCIe 6+2 Pin, PCIe 8 Pin
Full High-End System Cable Options – The Colored Extension Cable Kit offers enough extension cables to fully support a 16 EPS pin motherboard and two 16 pin GPU build
Description
CABLE MANAGEMENT WITH STYLE
The Sleeved Extension Cable Kit delivers universal ATX cable extensions with high quality colored cable sleeves. The kit provides 7 pieces to cover all your main system cables and comes in five available color options. The three-layer protective design provides protection from various hazards such as acid and mildew without sacrificing flexibility. To top it off, the cables are made with 16AWG wire for better heat resistance and lower ambient temperatures than industry standard 18AWG cables. Whether your PSU has fixed or modular cabling, with this kit you can manage your cables with style.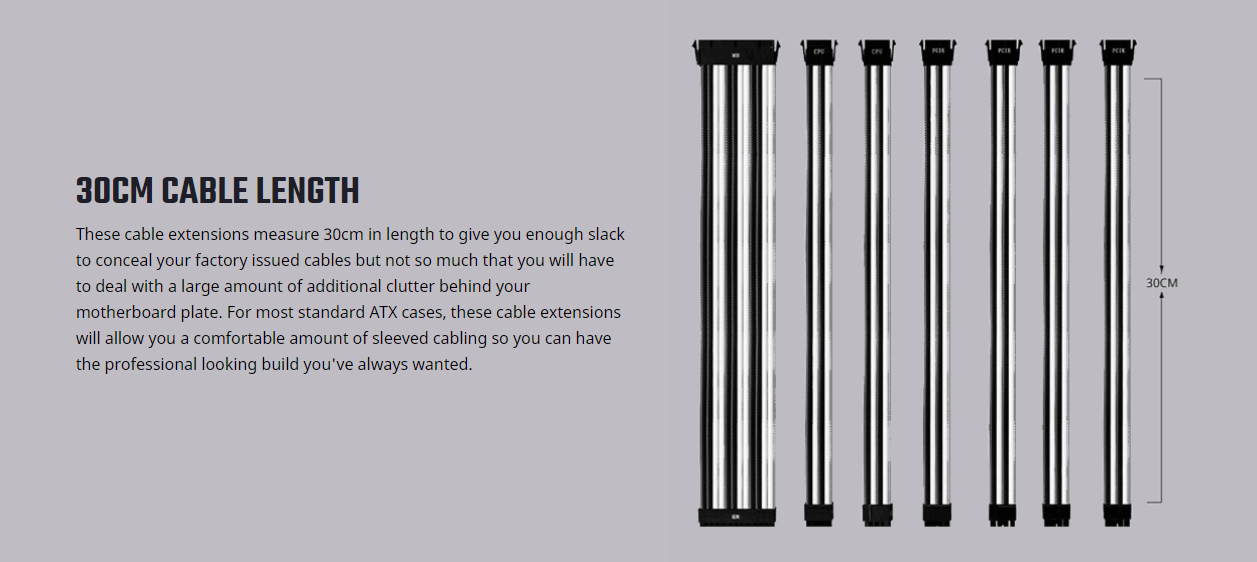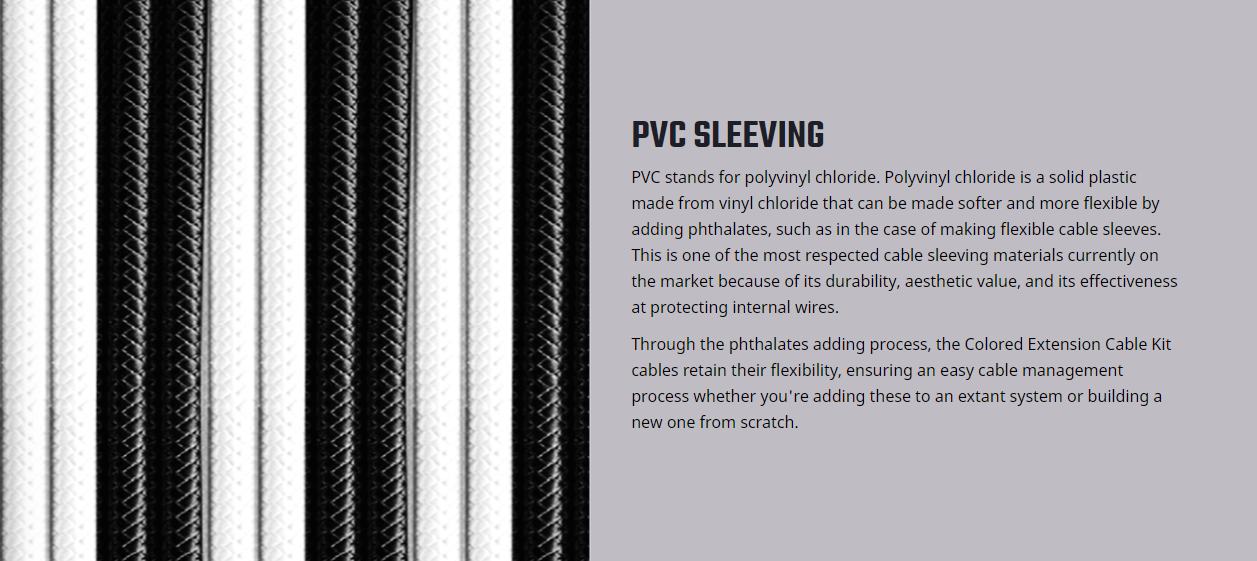 Additional information
| | |
| --- | --- |
| Weight | 1 kg |
| Dimensions | 35 × 6 × 4 cm |
| Brand | Cooler Master |
Only logged in customers who have purchased this product may leave a review.