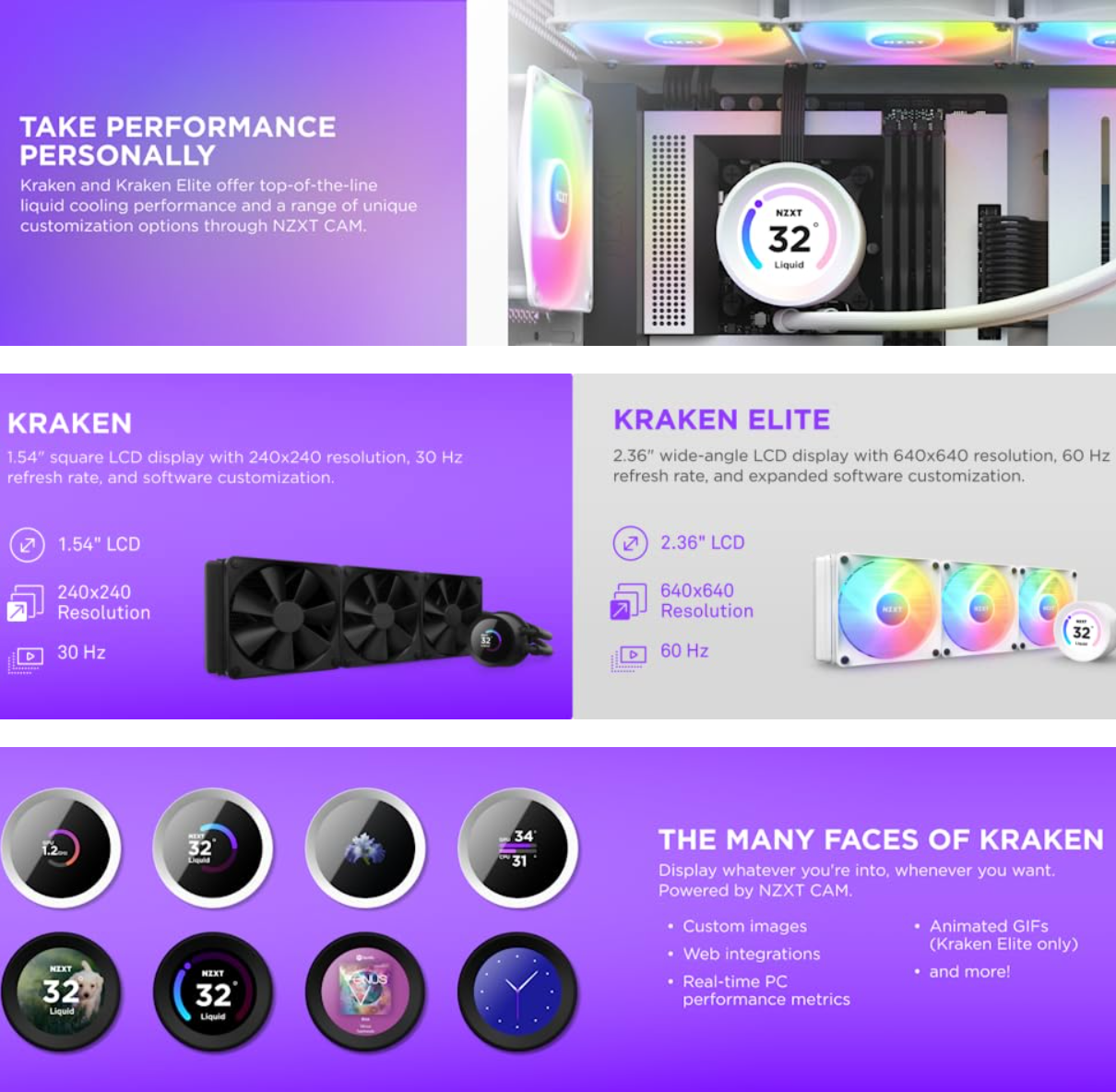 Combining performance and style, the NZXT 360mm Kraken Elite RGB All-in-One Liquid CPU Cooler gives custom builders a breadth of customization options without compromising cooling capabilities, turning your system into the centerpiece of your gaming room.
The Kraken Elite utilizes a 360mm aluminum radiator with 3 Fluid Dynamic Bearing (FDB) 120mm fans to air cool your internal components. Each fan uses Pulse Width Modulation (PWM) technology, enabling each fan to operate from 500 to 1800 rpm speed, giving you 78.86 CFM airflow. A copper water block with a 7th Gen Asetek pump attaches to your AMD or Intel processor, enhancing thermal transfer capabilities even under heavy loads. With the free-to-download NZXT CAM software, you can customize the water block's 2.36″ display as well as the color and effects of the ARGB fans, giving your system a sense of personality as you play. Long 15.75″ ultra-low evaporation rubber tubing with nylon braided sleeves add reliability to the Kraken Elite, ensuring proper liquid throughput between the radiator and the water block.
LCD Display
The 2.36″ LCD display features enhanced brightness and a clear 640 x 640 resolution, allowing you to customize the screen to add custom pictures, animated gifs, audio visualizers, and more for a unique style and feel to your system. With 24-bit color and 690 nits brightness level, you can ensure your images are clear and smooth.
ARGB Fans
Each of the F Series RGB Core fans can be customized with a wide range of colors and effects to add even more style and personality to your system. Each fan produces a low-noise floor, preventing loud and obtrusive sounds from interrupting your audio recordings and focus.
Simple Install
Setup is made simple with a single breakout cable that takes the guesswork out of the installation process. The liquid tubes are protected with reinforced nylon-braided sleeves for added durability and worry-free handling.
NZXT CAM Software Ready
Personalize screen content with custom images, GIFs, or performance info with user-friendly NZXT CAM software. You can also control fan and pump speeds and run at 0 RPM mode at low temperatures to eliminate fan noise. Adjust RGB lighting effects for a vibrant look that's all you.
Processor Compatibility
The Kraken Elite RGB is compatible with a wide range of processors including AMD's AM4 and AM5 sockets as well as sTRX4 and TR4 sockets with the optional bracket. Intel LGA 1700 and 1200 sockets are also supported right out of the box.